Updated 15 March 2021:New Independent Chief Inspector of Borders and Immigration appointed
David Neal to begin his appointment on Monday 22 March 2021 as Independent Chief Inspector of Borders and Immigration (ICIBI) for a term of 3 years.From:Independent Chief Inspector of Borders and Immigration and Home OfficePublished:15 March 2021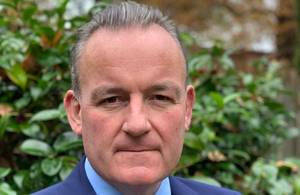 Home Secretary Priti Patel has today (15 March 2021) welcomed the appointment of David Neal as the new Independent Chief Inspector of Borders and Immigration.
The Independent Chief Inspector of Borders and Immigration is an independent monitoring body sponsored by the Home Office that reports on the efficiency and effectiveness of the immigration, asylum, nationality and customs functions carried out by the Home Secretary, officials and others on her behalf.
Mr Neal takes up the role having formerly served as head of the Royal Military Police and Commander of the 1st Military Police Brigade.
Home Secretary Priti Patel said:
I congratulate David Neal on his appointment as Independent Chief Inspector of Borders and Immigration and look forward to working with him as he sets his inspection plan and makes recommendations to drive improvements across the Border, Immigration and Citizenship System.
Mr Neal will start his new role on 22 March 2021 and has been appointed on a 3-year term following a rigorous recruitment process in line with the Governance Code on Public Appointments.
David Neal said:
I am delighted to return to public service in such an important and high-profile role in an area which affects us all. I am honoured that the Home Secretary has appointed me as Chief Inspector, a role that is vital in monitoring and reporting on the efficiency and effectiveness of our country's border and immigration functions. I look forward to leading the team and continuing to deliver a comprehensive and high-quality inspection programme.
David Neal's appointment follows the tenure of David Bolt who steps down from the role of Independent Chief Inspector of Borders and Immigration on 21 March 2021.
Career
David Neal was appointed by HM The Queen as the Provost Marshal (Army) and commanded the 1st Military Police Brigade from 2016 until 2019.
He led the Royal Military Police through major reforms including the Service Justice System Review, and was responsible for Operation Northmoor, the Royal Military Police investigation into allegations of illegal killings by British troops in Afghanistan.
From 2015 to 2016 he was the senior Military Police and Gendarmerie officer in NATO's Allied Rapid Reaction Corps.
From 2012 to 2015 he was responsible for the assurance and inspection of the United Kingdom's detention facilities across the world, including in Afghanistan and on Royal Navy ships.
From 2011 to 2012 Mr Neal was an instructor and mentor at the Joint Services Command and Staff College educating and developing UK and international students from the military and civil service, in preparation for their assumption of high rank.
Mr Neal graduated from the Royal Military Academy Sandhurst in 1994 having read English Literature at Bangor University. He is a Chartered Security Professional and Chartered Manager.
---
---
---
Appointment of the Independent Chief Inspector of Borders and Immigration – report released 19 January 2021 from Home Affairs Committee
Independent Chief Inspector of Borders and Immigration
1.The role of the Independent Chief Inspector of Borders and Immigration (ICIBI) was established by the UK Borders Act 2007. The role is appointed by the Home Secretary and is independent of government. The Independent Chief Inspector has responsibility for monitoring and reporting on the efficiency and effectiveness of the UK's immigration, asylum, nationality and customs functions.
Report:
2.The Independent Chief Inspector is authorised "to monitor, report on and make recommendations on all functions, with the exception of those exercised at removal centres, short-term holding facilities and under escort arrangements, unless the Home Secretary makes a direction to do so. The inspection of these parts of the immigration and borders system are inspected by Her Majesty's Chief Inspector of Prisons or Her Majesty's Inspectors of Constabulary (and equivalents in Scotland and Northern Ireland)."1 The ICIBI follows a published inspection plan, which the Home Secretary is consulted on. The Independent Chief Inspector is required in legislation to write a plan for an inspection, but the legislation also allows for the Independent Chief Inspector to diverge from the plan.2 The Home Secretary is also able to commission specific inspections. The Independent Chief Inspector is required to report in writing to the Home Secretary following an inspection, and accordingly produces reports after each inspection as well as an annual report. The Secretary of State is responsible for the publication of the reports and deciding when to lay them before Parliament. The reports are published in full, however the Secretary of State is permitted to make decisions to withhold material for reasons of national security, or where an individual's safety may be jeopardised by publication. In these cases, the Secretary of State may leave out the relevant parts in the published report.3
3.The ICIBI's purpose is "to help improve the efficiency, effectiveness and consistency of the Home Office's border and immigration functions through unfettered, impartial and evidence-based inspection."4 The ICIBI shares the Civil Service's values of integrity; honesty; objectivity and impartiality and it has its own 'Vision Statement' which sets out that the ICIBI will:
"be highly-skilled, professional and effective, with a reputation for the highest standards of work and conduct
operate thorough, rigorous and transparent processes to reach sound, evidence-based conclusions
deal with others consistently and reliably
be efficient, forward-thinking, committed to continuous improvement and focused on delivery
enable and develop its people".5
4.The budget for the ICIBI was £2.085 million in 2019–20. The budget is determined by the Home Secretary. It is then delegated to the Independent Chief Inspector through a formal letter of delegation, from the Home Office Second Permanent Under Secretary.6 There are currently 30 members of staff in the Chief Inspector's team.7
The recruitment process
5.The campaign to recruit the next Independent Chief Inspector of Borders and Immigration was launched in May 2020. The initial closing date was 4 June 2020; however, Ministers extended the deadline by two weeks to enable more applicants to apply. The new deadline was 24 June 2020. The role was advertised across national media and in diversity related publications, such as diversity websites Vercida, Pink Shoe and In Touch Networks.
6.It was announced in November 2020 that the incumbent Independent Chief Inspector had agreed to continue in the role until his successor was appointed.8 Further information about the recruitment process provided to us by the Home Office is appended to this Report.
Role and person specification
7.The role and person specification established by the Home Office for the role of Independent Chief Inspector of Borders and Immigration is as follows. Candidates were asked to demonstrate their skills and experience relating to criteria set out in Part One in their application form, with criteria from Parts One and Two being explored at interview:
Part One – Essential skills and experience
Proven track record of leading an organisation, operating at Board level or equivalent, with associated financial and people management skills.
Demonstrable experience of the consistent delivery of excellent performance outcomes within a changing operational environment.
Evidence of contributing to the development of a sound strategic direction for an organisation.
Evidence of building strong and effective working relationships with internal and external stakeholders, displaying sensitivity to their views and an ability to handle conflict diplomatically.
Evidence of the ability to analyse and make judgements from complex data and contribute to workable recommendations on complex and sensitive issues.
Evidence of the ability to gain respect and keep the confidence of key stakeholders including Ministers and senior government officials through effective communication and influencing skills (both oral and written).
Part Two – Personal abilities and behaviours
You should also be able to demonstrate:
That you are at ease working within a given statutory framework.
Decisiveness and independence.
High standards of corporate and personal conduct, including a sound understanding of and strong commitment to equal opportunities, public service values and principles of public life, enabling you to act impartially and uphold the role of ICIBI.
David Neal, the preferred candidate
8.The Secretary of State's preferred candidate, Mr David Neal, has a military background. Between 2011 and 2012 he was an instructor and mentor at the Joint Services Command & Staff College. In 2012 he was appointed Deputy Provost Marshall, before being promoted in 2015 to Provost Marshall. He became the principal Military Police and Gendarmerie officer in a multi-national NATO HQ with responsibility for Military Police and Gendarmerie support to a NATO Reaction Force. Between 2016 and 2019, Mr Neal was Provost Marshal (Army) and Commander 1st Military Police Brigade. Since 2019 Mr Neal has worked for Blackstone Security Consultancy as a Strategic Security Advisor. Mr Neal's CV is set out in Appendix C.
9.We held a pre-appointment hearing with Mr Neal on 15 December, during which we asked a range of questions bearing on his suitability for the role of Independent Chief Inspector of Borders and Immigration.9 These included questions on his experience and skills and how they were relevant to the role, his views on possible changes to the role in the future and about the importance of independence and how he would demonstrate that in the role.
10.Mr Neal's CV demonstrates that he has extensive experience of investigation and working within a statutory framework. During the hearing he provided us with further evidence of his experience of undertaking inspections. His answers were significantly more comprehensive in areas where he had experience than in areas where his knowledge was more limited.10 We noted that Mr Neal did not appear to have been probed at an earlier stage in the recruitment process on his approach to or his reflections on the borders and immigration system. We were concerned, particularly following the conclusions of the Wendy Williams review to which Mr Neal referred, by the degree to which Mr Neal's answers initially focused more on the Home Office as a stakeholder than people who are affected by the border and immigration systems.
11.Mr Neal's CV and his answers to questions demonstrated his success in private challenge;11 however he was unable to describe to us instances when he had used public challenge. Private challenge may sometimes be the most appropriate course but it is fundamental to the independence of the inspector that he or she is confident to challenge performance publicly, providing accountability and maintaining public confidence in the effectiveness and impartiality of the inspectorate. We would have expected the selection process to have provided assurance on this point at an earlier stage.
12.Our primary concern relates to the recruitment process that the Home Office undertook. Those areas of questioning where we were only partially persuaded by Mr Neal's responses should have been more effectively tested earlier in the process to assess his suitability for the role. This does not appear to have happened. In addition, we note that although the recruitment deadline was extended only four candidates were judged worthy of interview and two found to be appointable, which suggests possible weaknesses in the Home Office's advertisement and recruitment strategy.
13.Following the hearing we wrote to the Home Secretary on 18 December setting out our concerns and requesting further details of the recruitment process used on this occasion. The Home Secretary responded on 12 January. The exchange of correspondence is appended to this report.12 We are disappointed that the Home Secretary's response does not take full account of the concerns and issues we raised.
Conclusion
14.We acknowledge that Mr Neal has an impressive CV and career history and have no doubt that he could make a significant contribution to public life in a suitable role. However, based on the pre-appointment hearing our conclusion, while not unanimous, was that we were unable to support the recommendation of Mr Neal as the preferred candidate for the particular role of Independent Chief Inspector of Borders and Immigration. Should the Home Secretary proceed with the appointment despite our concerns, we hope that steps will be taken to address the issues we have raised in this report, and we will look forward to working constructively with Mr Neal. We regret that Mr Neal was placed in an unfair and difficult position by a recruitment process which we believe was insufficiently robust. We hope that changes will be made to the recruitment process on the next occasion, in consequence of the concerns we have now raised.
---
… and Priti Patel's response: 'I am satisfied that, following a full and robust recruitment process, he is the outstanding candidate for this role and intend now to proceed—subject to the usual pre-appointment processes being completed—with his appointment. It is clear to me that Mr Neal has all the necessary qualities to not only fulfil this role, but to make a huge success of it. I very much look forward to a constructive working relationship with him, as we both share a strong desire to improve the Borders, Immigration and Citizenship system.'
https://committees.parliament.uk/publications/4326/documents/44015/default/
---
The record of the interview by Home Affairs Committee dated 15 December 2020 is here: https://committees.parliament.uk/oralevidence/1398/pdf/